Coaching: Executive, Career & Business Coach
Since 2010 we have been certified as
INTERNATIONAL ONTOLOGICAL COACH
by the International School of Ontological Coaching
NEWFIELD NETWORK.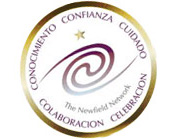 TRANSVERSAL METHODOLOGY
We take the human beings as a whole, therefore we work with language, bodies and emotions, creating (with oncological coherence) space for development. Our aim is to turn learning and developed practice in a coherent behavior. We believe that experience, self-reflection and determination to change, are the key to a successful training.
OUR COACHING PRACTICES
COACHING FOR EXECUTIVE MANAGING AND KEY PEOPLE 
The coach will work hand in hand with the senior manager to explore his/her potentiality and to acquire the right tools to overcome future obstacles. Once they have developed leadership qualities, they will be able to create a learning atmosphere within their team.
PERSONAL COACHING
Our Personal Coaching Program is design to support you to align your values and professional objectives with your Public Image and personal look. We will study your personality, your strengths and areas for improvement. We will study your external appearance to define the look which best suits you to help you achieve your goals.
LEADER COACH SKILLS DEVELOPMENT PROGRAM
Talented employees need outstanding managers. The time he/she remains in the company and his/her efficiency level during this period will depend on the relationship he/she holds  with his/her immediate supervisor (Gallup, 20 years research on organizational effectiveness "First, break all the rules").
COACH TRAINING
Our goal is to deepen the theoretical aspects of the practice foundation through the ontological coaching: language philosophy, system theory, emotional and body intelligence. Passing on tools to those people who want to develop their Leadership competency as a complement of their professional training with coaching practices.